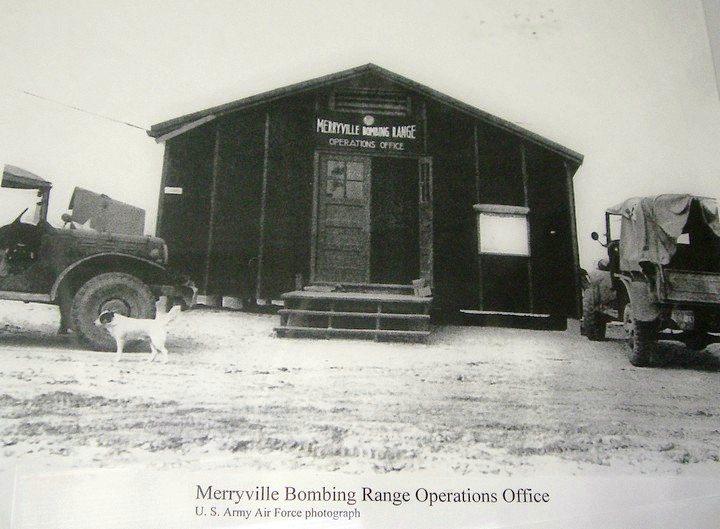 The range was commissioned on October 27, 1943 eight miles southeast of Merryville, approximately 20 miles south of the airbase, on the Merryville – Singer highway. It consisted of approximately 19 miles around. The 20,328 acres was divided into three tactical ranges; a medium altitude precision bombing range known as the "Tokyo Range," a strafing and skip-bombing range known as the "Burma Road Range," and a high altitude demolition range designated as the "Berlin Range."
The "Tokyo Range" located in the northeastern part of the land had 25' pyramid style fixed based targets.
At that time, the range was used by the DeRidder Army Air Base, Lake Charles Army Air Field and occasionally planes from other bases such as Will Rogers Field at Oklahoma City. It was officially determined that use of the range did not result in damage to surrounding property. However, unofficially there are reports that the pilots did occasionally venture a little off course.
The following letter was sent in from a concerned citizen.
FIELDS, LOUISIANA
Nov. 24, 1944
To the Officer in charge of the Air Corps,
The boys who come down here at night to the bombing range drop their bombs any place except in the range. I wish you would look into this & have them to use the range instead of this community. The last three nights we have had to stay up all night expecting every minute for them to drop one on our home.
All my brothers, my husband and brothers-in-law are in service and here lately it seems like I am in Germany when they drop these high explosives around here. I reckon its bombs, I don't know what it is, but anyway I don't think they should drop them around our homes as large bombing range as they have to use.
Will you please have it stopped? We would appreciate it more than you will ever know.
Citizens of the community Fields.
---
The Clerk is very interested in publishing more historical accounts and photographs from the entire parish on this website. If you have information or photos that you would like to submit please forward them to us at the following address This email address is being protected from spambots. You need JavaScript enabled to view it..